Join Us Live
Getting started with Pilates or keeping up your practice
with us has never been easier. Now you don't even need to leave the house – you can connect with the best teachers in Ireland with our online classes and one to one appointments.
During interactive sessions our friendly teaching team guides you through a live, in-person group class or a tailored one to one session from the comfort of your home.
All you need is an internet capable device and you're ready to go.
We use Zoom for our interactive classes – if you need help with your setup, just get in touch, we're happy to help.
Book Now
"I am so glad to be able to keep doing my classes during the pandemic. Instruction is as clear as ever and all instructors keep a close eye on us as we do the exercises to give us cues to best do the exercises as needed. It is also a brilliant community to be a part of in these socially distant times" – Emma B
How to get started with our studio
If you're just joining our studio, we recommend you book a free 15 minute appointment for a chat so that we can guide you to the best options on our schedule for you based on your previous experience. Or just give us a call on 01 5549710.

Get Started
"Since the outbreak of Covid-19, the team at Live & Breathe has continued to provide support and classes…which has been a lifesaver at a crazy time! Definitely a top Pilates team that I can't recommend highly enough" – Morwenna R
Prices
Clients tell us our classes are great value for money – you can enjoy your live online classes for as little as €9 a session with our discounted multipacks.

Prices
"The online classes have been an absolute life raft during the lockdown….I can say without a doubt that these classes are my bastion against encroaching crumbliness and decreasing mobility. They are a state of mind and of intention. They are also, it needs to be said, great value for money. Bravo to Steph and all her team for making them available to us during this unprecedented crisis" – Lorelei H
Timed to suit you
We're open 7 days with over 35 classes to choose from for all levels of experience.
We also have a range of specialist classes for prenatal, postnatal and classes for our older clients – Fit for Life.

Group Classes
One to one sessions are bookable all week too, from early morning to late evening.
Appointments
"What impresses me most is how the team have transferred their pleasant environment to their online classes in recent months. Instructors still give the same individual attention to each student, in a fun and lighthearted way that makes the challenging days at home a little bit lighter" – Rachel G
Why do Pilates?
Regular Pilates keeps you strong, toned & flexible and with it's focus on deep breathing, integrated with your movement, can also help alleviate stress and anxiety.
Athletes, mums to be, clients in their 80's and you too can reap many benefits from regular sessions.
Some of the benefits include:
✔ strong, toned muscles
✔ keeps you in tip-top shape and looking great
✔ reduces stress and anxiety
✔ improves flexibility
✔ reduces risk of injuries
✔ improves balance
✔ better posture and alignment
✔ prehab prior to surgeries or medical treatment
✔ less general aches and pains
And lastly with it's mind and body focus, Pilates leaves you feeling refreshed and energised after each and every session.

Learn More
"I'm doing more Pilates now than ever and really enjoying it. I can't recommend the on line classes enough!!" – Anne O
Your Teachers
Our experienced teaching team have thousands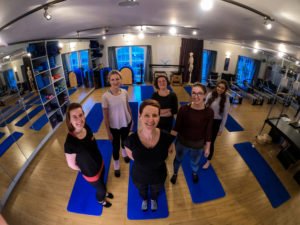 of hours of experience between them so you know you're getting the latest evidence based information with your workouts.
Our friendly teachers always ensure you get the best possible results from your Pilates practice, challenging you when appropriate and supporting you when required as well as keeping things fun.
Classes are kept small – even our online classes – so we can assist you with form and technique. Individual attention is something we never compromise on.
We guarantee you'll finish your session feeling better than when you started.

Our Teachers
"I agreed to try an online class, and am I so glad that I did! Louise told me it would be easy to setup, she helped me by phone and it only took about three minutes to get started. I am delighted" – Lesley V
Read more reviews on Google and Facebook.
Current Class Timetable
View all Pilates Classes
Welcome to Live & Breathe Pilates
New to our Studio?
Book a free appointment for a chat about options or just give us a call on 01 554 9710.
Get Started
Interested in group classes?
Check out our timetable below for all options and times. We're open 7 days with 35+ classes to choose from.
Book Classes
Prefer Private Sessions?
We provide online one to one appointments for those who prefer a tailored program. We recommend a chat first to see what the best options are.
Book Online Appointments
Pilates Online
Contact us
Reviews
Based on 63 reviews
Testimonials
"After emergency lumber spinal surgery in 2019, months of chronic back pain and restricted mobility followed. Once cleared by the surgeons I began Physio and Physio led Pilates. They helped but I was still struggling - a simple thing like standing up was a problem. Painkillers, anti inflammatories and a back brace were often used to get me through the day.In Feb 2020 my Physio recommended Live & Breathe Pilates and things began to change. I signed up for individual sessions and after my first couple of sessions I noticed getting out of bed was becoming less of a struggle.Then Covid-19 struck and we moved to Zoom. I wasn't sure if this would suit me but I decided to stick with it. So every Saturday morning, armed with my myofascial balls, Pilates mat and laptop, I would get to work. And wow, did it make a difference. I could feel myself getting stronger as each week passed. Within a couple of months, I realised I was no longer bent over after standing up and I hadn't taken any medication since early March.My Physio and surgeon commented on my improvement too. They'd seen me struggle even though I followed their rehabilitation programmes. They were delighted with my improvement and commented I was one of few people who became more mobile during lockdown!There are lots of fab instructors at Live & Breathe Pilates. But I have to call out my instructor Therese Meaney, who I can't praise or thank enough. She is amazing and a natural teacher. Her positivity, patience and ability to confidently deal with my complex back issues have got me to where I am today - pain free, mobile, standing straight and stronger. Thank you Therese!." Cath F, November 2020
"I have loved Live and Breathe Pilates from the moment I found you last year and regretted the fact that I lived too far away for regular sessions. I therefore welcomed with open arms my introduction to your Zoom Sessions with Louise. They have been a real highlight in my self-isolation and I so look forward to my bi-weekly sessions. I would like to assure everyone that they are very easy to set up and are so useful and such fun. I am delighted I will be able to continue the Zoom sessions when lockdown is over, with the joy of visiting the studio when I visit Dublin. Many thanks Steph and Louise for your help and encouragement and for being there for me." Marna G, July 2020
"I have been doing 2 or 3 online classes a week over the last two months and the transition from studio classes has been seamless. The instruction from Cait and Louise has been so clear that it feels like they are in the room with you. I look forward to the warm welcome and great encouragement during each class. I am delighted to have the opportunity to attend more classes now than I did when they were based in the studio and I am really feeling the benefits. I cannot praise Live and Breathe Pilates highly enough for continuing to provide such high quality classes during these challenging times. A huge thank you to Steph and all the team." Gillian O'S, May 2020
"I started individual Pilates classes at Live & Breathe at the suggestion of my Physiotherapist following an injury 9 months previously. I started to feel the benefits in increased muscle strength after only a few sessions. Louise Carey my Instructor was so careful at explaining everything I was doing and tailoring the exercises to my needs. I am not the most 'tech savvy person and baulked a little when Louise suggested that I could continue classes via Zoom, however, my strength levels had improved so much and I was reluctant to lose the momentum so I agreed to try an online class, and am I so glad that I did! Louise told me it would be easy to setup, she helped me by phone and it only took about three minutes to get started. I am delighted with my continued Pilates programme with my wonderful Instructor, she has even incorporated exercises to boost lung capacity, which I think is a great idea for anyone during this unusual time of Covid 19. I cannot believe how effective Pilates has been for me and am so glad that I have been able to continue with it during these challenging times. I look forward to returning to the lovely studio and connecting in person again with all the friendly and conscientious staff there, in the meantime thank goodness for online classes!" Lesley V, May 2020
"I am delighted with my one to one online Pilates sessions with Cait. I look forward to my class every week and feel great after it. I can't get over how easy it is to do it via video link... feels like Cait is on the floor beside me. It has meant that I am up to speed on all my exercises and am still learning new ones every week. Well done Steph on getting the classes online so soon after closing. It's working out so well." Christine T, May 2020
"I was this weekend with Steph and Cait visiting them @liveandbreathepilates and did a mat class, wonderful as usual. My experience with Steph and her studio was life changing. I did over 150 classes in the last 2 years @liveandbreathepilates Best investment of my life I have scoliosis a condition which can be very challenging at times. But with Pilates I learnt to manage my back in a new healthy and more independent way and I learnt so many techniques with Steph and her team. They teach medical grade Pilates, for people that usually have injuries or limitations, young and healthy people, athletes or anybody really! Pilates gave me back so much, I really have no words to say thanks to you guys. I will soon find a studio here in Girona to keep the good work. Be very blessed and even more successful with your joyful, kind, highly technica, and effective teachings. Thanks also to @somadublin and her lovely classes, Therese, Louise and Laurie" Ana K, April 2019
"Steph is an excellent teacher, she is always positive and encouraging and able to adapt her sessions to the needs of the individual. Her patience is vital for the slow learners like myself and she continually seeks feedback so that the lesson is tailored as she goes along to my current needs. I love the classes and find her totally committed to her craft-as is the studio! A gem in Dublin 8." Monica H, March 2019
"I started doing Pilates around four years ago and discovered Live & Breathe around six months into my journey. In the beginning, I did one class a week (mat only) but found that my strength wasn't improving. I then started going two or three times a week and this is when I noticed the difference – within weeks of starting to go twice a week my core strength increased exponentially and my range of movement also increased. These days to keep things mixed up I try to go to Barre with Katrin (great class) once a week and do at least one of mat or reformer Pilates (usually reformer with Louise – great class also!). When I miss these classes my body notices (not in a good way) and when I do extra classes it and I feel amazing! I have tried different studios in the past but have not found the same experience nor value. At Live & Breathe the calibre and quality of instructors is consistently excellent, classes are always great and instructors will focus on areas where clients/I request spending additional time, the studio is also amazing and feels like stepping into a retreat from the world. The small classes and one to one attention also make this studio a firm favourite! Keep up the great work to all the team there" Sara C, January 2019
"Just wanted to drop you a note as I had the most wonderful class with Margo yesterday. She taught and inspired me so much during 45 minutes that I couldn't work out afterwards how she fitted it all in excepting that it was beautifully calm focus. Not only that but I was so energised that I almost levitated for at least an hour afterwards." Leszek W, October 2018
"Some 5 years ago, when my physiotherapist advised me to take up Pilates to improve my flexibility and maintain mobility, she recommended Steph Grey at Live & Breathe. Ever since I have looked forward to my weekly session of "Fit for Life" where I have been surprised to discover muscles I never knew existed and have met some delightful classmates. Truly Live & Breathe Pilates has enriched my life." Peter L, October 2018
"I started doing Pilates as a recommendation of my osteopath clinician. I have childhood scoliosis which requires constant maintenance and exercise. Usual routine exercise and gym classes do not suit me as a always end up having pain because of my back. I started attending classes with Live & Breathe in 2016 and since then, my life changed for the best. I reclaimed my exercise independence, I did not have to attend physio and osteopath sessions so often anymore and I gained control of my back and body back. I am such a happier person, my scoliosis condition is now more of a feature of my body than a burden, I feel with Pilates I can be healthy again. I have no words of gratitude for Steph and her team. After over 100 classes fear of back pain has vanished from my life. And what a posture I gained. Thank you!" Ana C, April 2018
"Just dropping you a line with some feedback on James' class yesterday. Frankly, it was just super - the slightly slower pace meant I could really focus on alignment and flow and I feel very strong (not to mention great!) today as a result. Please thank him and ask him to keep up the good work." Sharon R, January 2018
"I really cannot say enough positive things about Live & Breathe Pilates! I have been a fan of Pilates for many years but after moving to Dublin and trying several different gyms and private classes over the years I had fallen a little of out love with it. The team at Live & Breathe Pilates have definitely reignited the affair! The studio is so bright and welcoming with all of the most up to date equipment. The atmosphere is so lovely and friendly and the website so easy to navigate. The instructors are all fabulous and their commitment and enthusiasm really shines through in each and every class. Their genuine interest, personable approach and indivdualised attention to the client is what sets this studio apart. They all really do seem to live and breathe Pilates!" Louise C, August 2017
"I have been attending Pilates classes in Live & Breathe Pilates for the last 2 years or so which I find hugely beneficial. Last year, I heard about the new barre class sessions and had to give it a go. I wasn't disappointed and have been a regular since. The classes are fun, usually set to cool beats, and are great for balance, posture and for building overall strength. Katrin makes the class really enjoyable, even though we are working hard! It's the fastest hour of the week, I'm a fan," Anne H, August 2017
"I've been attending Live & Breathe Pilates since 2014 for a mix of one-to-one and group classes. This is the best Pilates studio I've ever attended, with knowledgable and approachable instructors and state-of-the-art equipment. For the last 5 months, I have been attending weekly mat classes with James in the evenings, which I try to make every week. His classes are well-paced and his instructions are always very clear, and I always leave feeling relaxed and refreshed. He explains what we're doing and why we're doing it, and in his mixed level classes he always offers variations to give options for people of all levels. When I attend regularly, I feel an improvement in my strength and posture with each week I attend. If I didn't do Pilates on a regular basis, I think I would be in a lot of discomfort most of the time. Pilates makes a huge difference to me, and I would recommend Live & Breathe Pilates to anyone." Hannah B, August 2017
"After suffering bad wear and tear on my back for the past couple of years I decided to give Live & Breathe Pilates a try. It is a really beautiful studio, very spacious and bright. I've been attending the Studio for 9 months now and try and do 2 classes a week. One of the classes is with an instructor called Gigi. Gigi is a fantastic instructor, she mixes the exercises up each week, she explains the moves really clearly and her attention to alignment is excellent. She takes a personal interest in her clients and makes sure everyone is progressing. I never experienced this level of attention before in a group class. Gigi's class is an hour long and she makes sure all parts of the body are worked and stretched. I find every class exciting and challenging. As a result of the classes I feel my posture has improved, I am also getting more flexible and as a result I have more mobility in my back. The only regret I have is that I didn't go years ago. Thank you so much Gigi for all the guidance and support." Angela S, August 2017
"I'm so delighted Jessica recommended your studio to me. I feel so much better, I hardly know myself. I'm no longer in daily pain and able to enjoy the simple things like touching my toes, or standing for more than 10 minutes a time. I feel so much stronger and a great deal of that is to do with all your instructors - I felt safe yet challenged at all times during my rehabilitation and I'm tremendously grateful for the professionalism and care that everyone has shown me. From one-to-ones, duets and now the group classes I'm thrilled with my progress.I'm looking forward to a really productive and energetic 2017 which would have been an impossible outlook for me only 12 months ago.Thank you so much." Emma J, January 2017
"I kept meaning to thank you for the push to squeeze in more classes - turns out it was exactly what I needed, and I have been feeling much better thanks to more classes! (I know this shouldn't be surprising!) I had got caught up in work, but really felt the benefit after just a week of regular classes, and definitely what I needed in the lead up to Christmas.You have a fab studio and classes. I have tried a few studios, both yoga and Pilates, before I found you and really feel like I've found my home. So thanks you to you, and all the instructors, particularly Andrea and Katrin, for creating a lovely welcoming atmosphere, and really effective classes, while still great fun!Already looking forward to classes in 2017." Rachel D, December 2016
"I just wanted to say a massive thank you to Katrin for the prenatal Pilates classes I attended! My baby boy was born on the 21st May and I found the Pilates knowledge I had gained in Katrin's class invaluable during labour and delivery." Ita L, June 2016
"Thanks so much to you all for keeping me strong and mobile during the pregnancy, all the Pilates really kept me going. I really can't thank you all enough." Edel H, Aug 2016
"I really cannot praise the Live & Breathe Pilates team highly enough. I have been enjoying and benefiting from their superb expertise for several years. During my pregnancy I attended the pre-natal class which was wonderful for building my strength and flexibility – I have no doubt it was a huge help during the birth of my baby girl and with my recovery (post section) afterwards. I also enjoyed bonding with my baby and exercising together at the Mother and Baby classes. More recently, I have been working with Steph Grey on a one-to-one basis to address some immobilising lower back and serious pelvic pain. Before beginning my sessions, the most simple of everyday tasks was a challenge - walking was uncomfortable, lifting my little girl was a struggle, rolling over was difficult, even standing from a seated position was tough. Now, I honestly cannot believe the difference. Initially, Steph consulted my physiotherapist and my medical reports to gain a real understanding of the issues at hand before designing a targeted programme for me. With her coaching, attention to detail and positive encouragement I started to see results within a matter of weeks. Steph builds on the programme each week and I am now able for exercises on the reformer that I wouldn't ever have managed even in the whole of my health! Although we still have some way to go, I already feel like a new person. Thank you!" Elizabeth C, Sept 2015
"There is a really lovely, calm, welcoming atmosphere in the studio which I love and the teachers are brilliant. The classes are always a bit different so I never get bored and they last a full hour unlike a lot of other places I've been to. Plus the instructors are so friendly and always seem genuinely pleased to see me. Right from my first visit I left feeling like I wanted to come back again. It really is a pleasure to come to class here." Rachel J, June 2016
"I signed up to one to one Pilates with Steph in November 2015 three months after a micro-discectomy surgery for a severe herniated disc at L4 - with back pain and left leg sciatica. After the surgery my back and legs were very nervy, stiff and weak. I was also fairly traumatised to the point I was afraid to do any sort of activity. So far I've completed 10 sessions and I am like a new person! It's hard to believe that after a few sessions my posture, flexibility, strength and confidence has changed so much to the point family and friends have noticed. I walk, stand and sit better than I ever have before. The best part is I now have the strength to care, lift and play with my 14 month old daughter.I can't thank Live & Breathe Pilates enough for putting so much time into each session. I find every class exciting! Steph keeps things very focused and guides me carefully through moves helping me connect my mind and understand the purpose of the move. She assesses me before each class and tailors moves to help me with any problem areas. The attention and training Steph provides in each session is excellent. Pilates has become part of my life and routine and given me an new outlook on my mind, body and health." Anna D, January 2016
"When I started with Live and Breathe Pilates I had significant back and hip pain, to the extent that I was finding any kind of exercise impossible. Running was out of the question, and even things like cycling and swimming caused discomfort. This had led to my feeling run down quite a lot as a result of poor sleep and a general lack of fitness, and this in turn resulted in despondency setting in and a negative outlook towards any kind of exercise. However, I have four young children, so this really was not something I could afford to live with. A friend had done Pilates before and recommended it, so I thought I'd give it a try.
I found the classes have worked well for me: the instructors are attentive and professional, always pushing me just that right amount for my level, starting off with exercises I could manage and slowly adding new and more challenging ones. Most importantly, it has helped my back: I started feeling better within a couple of weeks and gradually the pain, which had frequently kept me awake at night, subsided. A year later, I am now back exercising on a (somewhat) regular basis and -- though I still have some way to go -- am feeling positive. Class continues to be a challenge, but always enjoyable. Also, as a self-employed person who works from home and whose evenings are extremely busy, it's also convenient for me to be able to take the 45-minute lunchtime session." Mike S, November 2015
"I started attending mat Pilates classes a year ago at Live & Breathe after many years of attending different professionals for my lower back pain, sciatica and sacroiliac pain. I was a bit unsure about starting Pilates classes as I felt I was unfit and out of shape but the individualised attention from teachers and their encouragement made getting started a fun and enjoyable process. I feel I am progressing at my own pace and specifically for my individual needs. Since then I have no more back pain and I feel more flexible every day. After class sometimes I even feel taller!" Adela C, September 2015
"I began attending classes at Live & Breathe Pilates a year ago. At the time I was recovering from a serious illness for which I had been hospitalised for 6 months. I had previously been a fit and active person but I was left with chronic fatigue and my muscles were so weak that any form of exercise was painful, especially in my back. I have found the Essential Back Care Class with Katrin to be a safe and relaxing class, which helped me improve my body awareness and core muscles. As a result of the high quality and personalised care from the Live & Breathe Pilates team, my energy and general fitness have improved so much that I have been able to return to tag rugby this summer. " Denise C, July 2015
"I have had on-going back problems for over two years and the last six months I've spent with Live and Breathe have improved things dramatically. I've been working with Steph Grey on a one-to-one basis and, having built up the necessary basic strength, will soon be joining classes. Steph is very attentive, encouraging and knowledgeable tailoring sessions to suit overall problems and also specific issues which may occur between sessions. Steph has also worked closely with my physiotherapist which has given me extra comfort that I'm on the right rehabilitation path. In Steph's absence, I have found the other instructors to be equally attentive and knowledgeable. Highly recommend Live & Breathe Pilates studios" Donna M, July 2015
"I've always done some type of exercise but when I developed sciatica and nerve damage in my lower back it limited me to literally no exercise. I was taking painkillers and anti-inflammatory tablets for about 2 years. My Doctor recommended I try Pilates. I joined up and I've just completed my 7th session. Most of my classes were with Mariapia who I can't praise enough......she has helped and guided me so much and I've noticed a huge improvement in my posture and core strength. But most importantly I have not taken any painkillers or anti-inflammatory tablets in about 3 weeks. I feel Pilates has given me back my life and most importantly it has allowed me to return to exercise basically free from pain. Mariapia provided me with a home program (half an hour) which I make time to do every day. All the instructors are extremely accomplished tutors and I can't highly recommend the team enough.......keep up the good work!" Valerie B, June 2015
"I've always done many types of fitness but with a hip injury it limited me to almost no exercise. My research brought me to Live & Breathe Pilates, who helped me find a great Physiotherapist too. They co-ordinate with my physio, so I'm being treated & then trained. I'm back walking & biking again thanks to an excellent group of exceptionally qualified instructors in a bright, clean & very well equipped studio. My husband & I do duet classes as well as one to ones. We are so pleased to be stronger and our posture continues to improve. We're feeling fit from a great new way to train" Barbara D, April 2015
"I joined 'Live & Breathe Pilates' Fit for Life class about a year and a half ago. Best thing I ever did!! Live & Breathe have outstanding instructors and teachers who are deeply committed to Pilates and hugely knowledgeable. They have an eagle eye and watch over us, which helps massively for our technique. They have an exceptional ability to incorporate our current aches and pains into their class plan and by the end of class those specific ills will have been helped no end. The studio is driven by their commitment to their clients(us) and a commitment to transmitting Pilates at it's best. This commitment also leads them to organise frequent and varied workshops, always excellent and worthwhile. Classes are small, great fun (we laugh a lot) hard work and very varied. Invariably, I come out more energised, more flexible and more positive. Interestingly, any time I have gone to class feeling unwell or below par, I finish feeling physically and mentally much better. Pilate classes at 'Live & Breathe' have improved my flexibility, my strength and my balance very significantly. Best of all, since I started my injuries have pretty well disappeared. (I play tennis, not well but enthusiastically, and always seemed to have at least one injury on the go). Now I live in a state of bliss !! The studio itself is central and a very pleasant space, exceptionally well equipped, and lovely to work in." Alil, March 2015
"The foundation course provided me with a great introduction to mat and reformer technique, and the one to one session is a great way to get started. The classes are small, making for a great learning environment and individual attention in a well equipped and very relaxing studio. If you're new to Pilates you might be surprised at how different you'll feel after a few classes. I've noticed huge improvements in my posture and core strength which has helped improve my running technique. Fatigue, aches and pains associated with sitting at a desk most of the week, and tension in the back and shoulders have all been hugely improved since I started taking regular classes with Steph and her very accomplished team of tutors. At the end of every session I feel calmer, more energised and sometimes even a little bit taller! I really can't recommend it enough." Niall S, February 2015
"When I moved to Dublin, I looked for a reputable Pilates studio that could work with my knee injury, had reasonable prices, and didn't feel too stuffy. Live & Breathe Pilates fulfilled all my hopes and more. Steph has created a wonderful space that feels relaxed, professional, and focused all at once. I've started doing weekly lessons with Andrea, and she has been wonderful for helping me reduce knee pain through stretching, and toning the muscles that will prevent further injury. Andrea and Steph are wonderful ladies who will help you find the best way to incorporate Pilates into your lifestyle." Anne C, October 2013
"The studio is spacious, light filled and uniquely designed. Steph is an expert in her field and leaves no stone (muscle) unturned. She is the consummate professional who loves what she does and her classes are energetic, fun and focussed on results. I always leave feeling that I have been through a thorough work out. I have done pilates classes before however the attention to detail in Live & Breathe Pilates is unique and I highly recommend this studio and Steph to anyone with an interest in developing a more flexible stronger body." Orla G
"I have attended Live & Breathe Pilates both on a one to one basis and within a class. The one to one was great for me as I got assessed to see was I OK to attend the classes and also got some suggested exercises for my weak areas. I really enjoy the class and find it beneficial, relaxing and fun. Class sizes are small so you definitely get the attention you might need. I started Pilates after having bad sciatica problems 3 years ago and fingers crossed to date I've been in a much healthier place with my back. I would recommend Live & Breathe Pilates to anyone, once you go you won't regret it". Laura G
"It gives me great pleasure to recommend Live & Breathe Pilates where I have been taking classes for 18 months now. The studio is bright, airy and well equipped and the instructors are extremely personal, professional and committed to achieving their client's goals. As a result of attending the weekly sessions I feel less stressed, more flexible and generally healthier. In fact I now feel several years younger than my 58 years". Tom D
"I have been attending classes for over 2 years. I was experiencing back pain while horse riding and was encouraged to try Pilates. I was told by a physio that I should improve the muscle tone on my back, and strengthen my core, both of which were weakened after years of sitting at a desk and being a professional couch potato. Live & Breathe Pilates classes are always invigorating and challenging and all instructors have a keen eye for detail which helps get the most out of each exercise. Their clear communication style makes it very easy to understand how each exercise is to be performed and what improvements/corrections you can make. The health benefits of attending classes at Live & Breathe Pilates are many. My overall strength, stamina and flexibility have greatly improved. My horse riding has benefited also, as I've developed a much deeper seat, better balance and a longer, stronger leg". Ken G
"I have been attending group Mat classes for over a year and more recently I also do Reformer classes. I find the instructors are very helpful, knowledgeable and have a strong attention to detail. While the classes are always enjoyable, we are challenged as the instructors observe closely to ensure we are moving correctly and giving it our best effort. By the end of each class I feel thoroughly exercised, relaxed and refreshed. The studio is modern, comfortable and very well equipped with Reformer machines and small equipment such as rollers, flex bands, spiky balls. The small equipment is often used in the exercises, helping to keep the classes varied, interesting and challenging. In my job I spend most of my time seated at a desk and working on a computer, so I find the classes have considerably helped to improve my posture, strength and flexibility". Vince, IT Team Lead
"I joined Live & Breathe Pilates as a result of work related back problems. Having joined about a year ago I am thrilled with the results, no ongoing back pain, no work leave and it's also great fun. Live & Breathe is a fantastic studio lead by Steph; an exceptional tutor who can gauge individual and group needs/ability." Matthew M
"I attended my first Pilates class with Steph in August of this year (2012) as a total newcomer and I would highly recommend it. I'm 26 and have experienced back pain since I was 15. I began Pilates on the recommendation of my physiotherapist to build up the strength in my back. I attend weekly one on one sessions with Steph. For me, the most positive aspect of beginning Pilates was becoming aware of my core strength and posture. As my back was so weak we started out very gently but I am now feeling and seeing the results. Steph is a wonderful teacher and very patient with me! She has helped me understand why I experience back pain and encourages me to make the necessary changes to my daily habits which were contributing to the problem. Steph has devised a home exercise programme for me which has become an essential part of my day, and I now feel like I am taking control of my body. I only wish I had started earlier." Aimée, 2012
"I have been practising Pilates with Steph since 2008. As a male, I was initially reluctant to begin Pilates but after discovering Roy Keane and the All Blacks were keen advocates I was convinced. A few years on, I have noticed a considerable improvement in my posture, balance and all round core strength. I would recommend Pilates to anyone and would especially recommend Steph as an instructor – her classes are relaxed yet professional and she will ensure that students get the necessary individual attention when required." Crohan A. O'Shea
"I started doing Pilates with Steph around 3 or 4 years ago. I'm not young and I'm not skinny, and hadn't done proper exercise for years. I went as I had lots of back problems – constant lower back and hip pain, trapped nerve in shoulder etc, and was thinking of buying shares in Nurofen Plus and heat pads as I was using them on a daily basis. It's hard to describe how Pilates has helped without sounding like one of those 'miracle cure' converts. But it has really helped my movement and mobility – I feel so much stronger and the back pain is virtually just a bad memory. I went to other Pilates teachers who were good but came back to Steph – she's a real stickler for technique and makes the class effective and enjoyable. I'd recommend Pilates to anyone." Freda
"I didn't realise that most of us really do start to lose muscle tone after the age of 30 or so until I attempted Pilates. This is really true if you do a good deal of desk work, and don't get much other regular exercise. Each class Pilates offers the chance to begin to make up for any losses in flexibility and strength. It's a great investment in your physical and mental well being. Steph's classes are small enough to ensure that each student receives individual attention. You can continually challenge and build on your abilities, making the most of the time you devote to working out. I would recommend these classes to anyone interested in doing Pilates or discovering a new opportunity to improve their physical fitness." Barbara Caska
"Steph's classes came highly recommended to me by my physiotherapist who thought they would benefit the issues I was having with my neck/upper back. I thoroughly enjoyed the first class I attended in September 2010 & felt results immediately. I now look forward to my weekly class. I have developed an increased awareness of my body, my posture & balance have improved & I feel stronger. I have embraced Pilates as part of my every day life and feel it benefits me holistically. Steph is a wonderful instructor. Her classes are relaxed, varied & because of their size, you get individual attention. I aspire to become half as flexible as Steph :-)" Lynda Barber
"I started Pilates on the recommendation of my rheumatologist, as I suffer from Ankylosing Spondylitis, a form of arthritis in the spine. The rheumatologist stressed the need to have good core muscles and also good posture. I began taking classes with Live & Breathe Pilates about 2 and a half years ago and my posture, core muscles and the flexibility in my spine has improved greatly. Steph is a brilliant instructor and makes each class thoroughly enjoyable. I can't recommend Live & Breathe Pilates enough." Celine Tormey
"I heard Pilates was an excellent way to build strength and after some problems with my back, my physiotherapist recommended it as the exercise which would help me considerably. That is exactly what it has done. I no longer have such back problems and find the added benefits have made me feel stronger and fitter. And in its own way, learning Pilates with Steph has helped me become more finely tuned to how I can develop my own physical strengths while still working within my boundaries. The fact that the pace and type of movement can be altered to suit your needs and abilities is very encouraging. Learning Pilates with Steph has been hugely beneficial for me, with encouragement and focus you see the results sooner than you think – once you stay with it." Kathy Saunders
"I thoroughly enjoyed Steph's prenatal Pilates class during my recent pregnancy. Steph is an excellent instructor with significant experience. The different Pilates exercises were modified as my pregnancy progressed so I was able to continue classes until 38 weeks. As well as being really physically beneficial, it was a great way to meet other mums-to-be. I did not experience any back ache at all during my pregnancy and am certain this is due to my Pilates practice under Steph's tuition." Mary Collins
"I have been attending Steph's classes for over 3 years now, including 2 sets of pre and post natal classes! I cannot recommend Steph highly enough, she is an excellent teacher and places great emphasis on doing the movements 'technically' right which is so important in Pilates. Steph's classes are always friendly and welcoming. I have been so impressed with Steph's philosophy of continuous improvement and commitment to her own professional development. I thoroughly enjoy the classes ( as does 6 month old baby Isaac at the moment!) and notice significant physical benefits from the work." Mary C
"As I spend most of my day sitting at a desk, I find Pilates particularly beneficial in terms of stretching my body out and improving my posture. I have been attending classes for over two years and have really noticed an improvement in my core strength, flexibility and general fitness. I enjoy the mix of both an individual Reformer class and a group mat class every week. Steph is an excellent instructor and her classes are never tedious or boring as she only takes a small group and varies the Pilates exercises each week. I would highly recommend Pilates to anybody of any age, I always feel much better and an inch taller after a class!" Aedín
"I'm in my mid-fifties and spend more time than I should crunched over a computer.  A few years ago my back went from being a bit niggly to being a serious and continual pain.  It affected my work, my temper, my self-confidence, the lot.  Pilates isn't a quick fix but it does work.  I feel so much better.  Steph is a marvelous teacher, calm and encouraging.  The classes are a real pleasure.  I always walk away with a spring in my step." Melissa Murray
"In late 2009 I started to experience back pain. I spent most of the Christmas 2009 lying horizontally – the only pain-free position I could discover. Early in 2010 I was directed to Steph and her Pilates exercises by my physiotherapist. From my first session on the Reformer I felt better. And the improvement in my core strength and flexibility have banished the back pain. I now try and have a weekly one-on-one session with Steph and can't recommend her and Pilates too highly." John R. Healy
"I began one to one Pilates classes a year ago and my quality of life has improved beyond measure.  My back – the pain and its ability to collapse at anytime – directed everything I did or didn't do.  Steph and her Reformer have patiently worked on my core muscles, building them up so that in my everyday life, they engage and do the work my back did in the past.  I feel fitter, look leaner and for the first time in 15 years feel in control.  Pilates is for and will change everyone, even an overweight, extremely unfit 55 year old woman.  Thanks Steph!" Phil Scully
"I began attending Live & Breathe Pilates classes in 2008 as a relative newcomer to Pilates and it didn't take long for me to be hooked.  Steph is an excellent instructor and is able to help students of all abilities continuously improve by keeping class sizes small and offering lots of personal attention. Since starting in Pilates, I have notice a tremendous improvement in my core strength and have developed a greater awareness of my posture and breathing.  I'd enthusiastically recommend Steph's classes to complete beginners and long-time students alike!" Jordan C